Before I go on my tirade, let me say that I don't fully intend on hurting anyone's feelings, but I've just got to come out and say it:
I cannot stand Madonna. Period.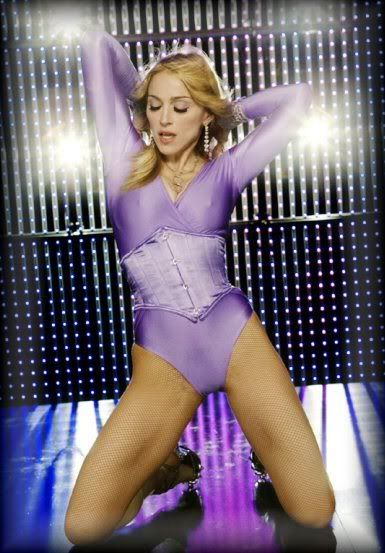 "Does Not Want!"
Like every rant, the reason I am venting about Madonna, one of the most popular singers ever because I see her as one of the most ubiquitous, vain, vapid, and overrated musicians of all time. Don't get me wrong, I will admit that her song,
Hung Up
that borrows(for lack of a word) from ABBA is more then slightly catchy and a guilty pleasure of mine. Despite this small guilty pleasure, it's not enough to retain myself from ranting about her. She hasn't looked for world peace, she constantly tries to bring back her sexy self from the eighties and she is always trying to reinvent herself as well as her image. Madonna seems to think she's still the bubbly, youthful free spirit who is loved by everyone when her only devoted listeners seem to be gay men and strip clubs. What makes this woman so loved, so worshiped and so divine? She is a Kabbalist which has turned many people to this pseudo-religion and worst of all, she is convinced that she is also as British as the queen herself.
For reasons beyond me, Madonna still has a stable career, when many people seem to be against her. She cannot act for her life, it's clear as can be. She notoriously ruined Guy Richie's career, almost bankrupt George Harrison's movie company, so not everyone loves her. While she still as popular as she was twenty years ago, she has also been a controversial figure. If by controversial you mean does things on stage and in music videos that is trying to be edgy and shocking. Which, if you think about it, is not very edgy and new at all. I know I most certainly will not listen to the aural assault called her music even if she pulls a Sinead O' Connor and tears a picture of the Pope and says Santa Claus is not real while spitting on the cross and makes love with a black priest(Wait...she already did this one).
Since her Like a Virgin stage, Madonna has played the cute and sexy part for too god damn long. People still attend her concerts, so because she's still so talked about, she obviously must still put out music, which it has slowly become less and less of. I'd call it, techno noise with boops and beeps and borrowing from songs from the 70's. And admit it, playing the sexy role at her age is just scary to witness and watching her try so hard to shock and cause talk about her music has gone on too long. Imagine your grandmother acting like Roxie Hart in Chicago and then you'll see what I mean.
In conclusion, Madonna, to be blunt, your fifteen minutes of fame have been up since the mid nineties and have been waiting to be collected for ages now. So claim them and leave the music industry please!
Still, regardless of what you think about Madge, this
Ungodly rendition of the classic song

"American Pie"
should be buried in a safe at the bottom of a deep, dark ocean. And I won't even subject you to Madonna rapping. You'll have to search for that on your own masochistic time.